The First American Methodists
Methodism in America began without authorization or support from England, as lay Methodists immigrated to America. Among its earliest leaders were Robert Strawbridge, an immigrant farmer who organized work in Maryland and Virginia around 1760; Philip Embury and his cousin Barbara Heck, who began work in New York in 1766; and Captain Thomas Webb, whose labors were instrumental in Methodist beginnings in Philadelphia in 1767. The first Methodist societies included active participation by people of European and African descent.
To strengthen the Methodist work in the colonies, John Wesley sent two lay preachers, Richard Boardman and Joseph Pilmore, to America in 1769. Two years later, Richard Wright and Francis Asbury were dispatched to undergird the growing American Methodist societies. Asbury became the most important figure in early American Methodism. His energetic devotion to the principles of Wesleyan theology, ministry, and organization shaped Methodism in America in ways unmatched by any other individual.
The first conference of Methodist preachers in the colonies was held in Philadelphia in 1773. The ten who attended pledged allegiance to Wesley's leadership and agreed that, as laypeople, they would not administer the sacraments. Methodists would receive the sacraments of baptism and the Lord's Supper at a local Anglican parish church. They emphasized strong discipline among the societies and preachers. A system of regular conferences was inaugurated, similar to those Wesley had instituted in England to conduct the business of the Methodist movement.
Adapting to Revolution
The American Revolution profoundly impacted Methodism. John Wesley's loyalty to the king and his writings against the revolutionary cause did not enhance the image of Methodism among many who supported independence. Furthermore, a number of Methodist preachers refused to bear arms to aid the Patriots.
When independence from England was won, Wesley recognized that changes were necessary for American Methodism to thrive. He sent Thomas Coke to America to superintend the work with Asbury. Coke brought with him a prayer book entitled The Sunday Service of the Methodists in North America, prepared by Wesley and incorporating his revision of the Church of England's Thirty-Nine Articles of Religion. Richard Whatcoat and Thomas Vasey, whom Wesley had ordained, accompanied Coke. Wesley's ordinations set a precedent that ultimately permitted Methodists in America to become an independent church.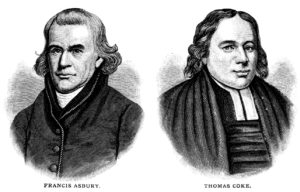 Creation of the Discipline
In December 1784, the famous Christmas Conference of preachers was held in Baltimore at Lovely Lane Chapel. Most of the American preachers attended, probably including African Americans, Harry Hosier and Richard Allen. At this gathering the movement became organized as The Methodist Episcopal Church in America. In the following years The Methodist Episcopal Church published its first Discipline (1785), adopted a quadrennial General Conference, the first of which was held in 1792, and drafted a Constitution (1808). It also established a publishing house and became a proponent of revivalism and the camp meeting.
Founding of our Other Predescessors
Two other churches were forming in America, which, in their earliest years were composed almost entirely of German-speaking people. The first was founded by Philip William Otterbein (1726-1813) and Martin Boehm (1725-1812). Otterbein, a German Reformed pastor, and Boehm, a Mennonite, preached an evangelical message similar to the Methodists. In 1800, their followers formally organized the Church of the United Brethren in Christ, which included a similar organization of traveling preachers. Otterbein attended the Christmas Conference and participated in Asbury's ordination.
A second church, The Evangelical Association, was begun by Jacob Albright (1759-1808). Albright, a Lutheran farmer and tile-maker in eastern Pennsylvania, was converted by the United Brethren and nurtured in a Methodist class meeting. He later established his own connection of preachers, better to reach fellow German-speakers. The Evangelical Association was officially organized in 1803.
Early attempts at merging these churches failed. By the time of Asbury's death in March 1816, Otterbein, Boehm, and Albright had also died. The churches they nurtured had survived and were beginning to expand numerically and geographically. The German churches united in 1946 as The Evangelical United Brethren Church, which in turn joined with The Methodist Church in 1968 to form The United Methodist Church.